2019 HEMS Elective Lakshmi Ananth
 Lakshmi relates her experience in this fantastic video!
Elective Objectives:
       Increase pre-hospital experience with a view to specialise in this area in the future
       Understand what the role of the HEMS doctor entails
       Learn about how critical care teams are dispatched
       Have an awareness of the different teams that provide prehospital care
       Have an insight into PHEM training pathways and the postgraduate exams
Introduction
I was fortunate enough to win the Faculty of Prehospital Care's elective, which this year was run in conjunction with Essex and Herts Air Ambulance (EHAAT). EHAAT is a helicopter emergency medical service, that delivers critical care to Essex, Hertfordshire and the surrounding areas.
During my time on the elective, a couple of cases really stood out to me:
Case 1
RING RING. RING RING. 'Hi, I've got a case for you, multi-casualty RTC in Essex'.
With limited details, myself and the team swiftly put our helmets on, boarded the aircraft, and made our way to the scene. Once we arrived, the critical care paramedic (CCP) and pre-hospital doctor made a rapid evaluation of the scene, triaged the casualties, and got handovers from the road paramedics and the fire & rescue team already present.
One of the cars involved contained an entire family and was completely smashed on the driver's side, thankfully all the patients had self-extricated from the vehicle and none were in a critical state. The fear and worry amongst the family members and spectators was palpable, and I could not help but sympathise with the shock and anguish they were experiencing. 
The other car involved in the collision had received most of the impact. When we had arrived, the patient was in the process of getting extricated by the fire and rescue team, whilst simultaneously being managed medically, as we were trying to get a clear history, establish pain levels and ascertain the type of injuries the patient had sustained.
Whilst this was happening, the police had arrived, we handed over to them and they began to close the road and block access.
Once the patient was safely extricated from the car, he was placed on the trolley and an A-E assessment was initiated. We placed monitoring on him, cannulated him and gave him fentanyl to manage his pain. From the initial assessment, it seemed that this patient had sustained a femoral fracture.
On initial assessment of the family, there were no immediate concerns, however, one of the family members began to complain of worsening abdominal pain.
After discussion, we decided to take the suspected femoral fracture patient to the local emergency department (as opposed to a major trauma centre [MTC] for definitive management) and the family were directed here as well.
Reflection
When we arrived on scene, it was busy and I felt overwhelmed. Intriguingly, I did wonder how we as a HEMS service would slot into the present situation, as there were already so many teams present. However, the HEMS team I was on shift with, calmly assessed the entire scene, got a handover from the paramedics and fire service already on scene, and began directing and delegating tasks, slotting into the situation seamlessly.
Even though I was overwhelmed by the present situation, it felt like the HEMS team I was on shift with switched onto autopilot, and 'got on' with the job in a calm, professional manner.
I liked the encouragement and support between our HEMS team and the other medical teams present, as these big cases provide valuable learning opportunities for clinicians. Despite the chaos, this was not neglected, and learning was still achieved, especially as the road ambulance team was relatively junior. 
In my future practice, I hope to encourage learning and provide a suitable environment for this to take place, as I genuinely believe this is vital for confidence, passion in what you do, and ultimately for positive patient outcome.
Moreover, I was impressed with how the team ensured everyone had a role, and made sure all members of the team felt useful and included, something I also hope to adopt into my own practice.
Some of the challenges that came to light, were the difficulty in keeping tabs on the entire situation, and other casualties present, whilst not getting drawn into the one patient you are treating. This is an added layer of complexity I did not fully appreciate until now.
Additionally, I did not realise how quickly and easily time can pass whilst on scene. Although the patients we were treating did not require time critical interventions, for other cases that may involve casualties requiring rapid stabilisation and transfer to hospital, timekeeping skills are paramount. Therefore, I will always have a fob watch on my person at all times to be in control of this, as well as delegating this role to an available team member.
From this case, I have noted that qualities such as being perceptive, remaining calm, thinking rationally, being a clear communicator, as you will be dealing with various teams, patients and relatives are critical in succeeding in a career in PHEM.
Lastly, this case has highlighted to me the necessity and role of a HEMS team, as I have seen personally the difference it can make.
Case 2
RING RING. RING RING. 'Hi, I've got a case for you, a 45-year-old female has fallen out of the third floor of a building.
As it was past day light hours, the helicopter was offline, however, the rapid response vehicle(RRV) was online, therefore we made our way to the RRV, and blue lighted our way to the scene.
Once we arrived, we received a handover from the road paramedics, who had transferred the patient from the ground into the ambulance, put her on monitoring and put a pelvic binder on her. We assessed this lady, who was intoxicated, and gave her analgesia. However, we were worried about head injury due to the suspected mechanism of injury, and as she had Glasgow coma score (GCS) of 13. After discussion with the on-call consultant, we took her to a MTC for her definitive management.
Reflection
This case highlighted to me the complexities in assessing GCS in patient. Not only is it subjective to a certain extent, but specific to this patient, her reduced GCS could have been attributable to intoxication or head injury. This is turn clouded the root pathology of this patient, and rendered difficulty in the decisions surrounding her further management.
Moreover, not only through this case, I have seen the importance of a clear handover from the pre-hospital team to the ED team waiting in resus, especially as there is a time critical element involved. 
I have found handing over well challenging during my years at medical school (something I'm sure I'm not alone in). However, as I develop more clinical experience, I look forward to being able to convey salient points in a timely coherent manner, and having the knowledge of what I can safely omit when I handover to other teams.
Week in Edinburgh
The week I spent in Edinburgh was incredibly insightful and enabled me to see first-hand what happens behind the scenes at the Royal College of Surgeons. The first day was spent with the admin team, who kindly showed me around the college and I learnt about the Intercollegiate Board of Training in Pre-Hospital Emergency Medicine (IBTPHEM) from an administrative perspective (and found out what I can do to make the administrative process easier!) and learnt about various diplomas and courses available, which is incredibly exciting and has highlighted the endless possibilities within PHEM. I also sat in on the examiners meeting, and the IBTPHEM training committee meeting which discussed PHEM training across the different deaneries.
However, what I found most useful was supporting the Diploma in Immediate Medical Care (DIMC) and Fellowship in Medical Immediate Care (FIMC) exams. I was an actor for both exams, which was incredibly insightful, as I had the unique experience of encountering first-hand what the examiners are looking for in the OSPEs and what marks are allocated for, which was very useful as I hope to sit these exams in the future. Additionally, I now have an appreciation for all the work that goes into preparing the exams to ensure fairness yet clinical rigor. It was a genuine privilege to support and be a part of these exams, and I look forward to doing it again in January. 
How has this elective benefited my future career?
My experience on the elective has encouraged me to keep a reflective log of interesting cases and prehospital experiences via PHEMnet, and continue to broaden my knowledge and skill-set by joining schemes, going on courses and compl
eting postgraduate diplomas.
The travelling thermal top with the EHAAT logo
During one of my flying shifts, I left my thermal top at my accommodation, so EHAAT kindly gave me one, 
however under one condition...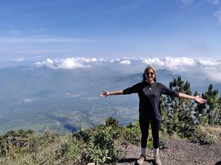 This was, when I did my other elective placement and travels abroad in Central America, I would make sure to wear it, even if it was 35 °C! And that I did, that I did.
Lakshmi Ananth