Welcome to the student hub, this space allows students to showcase their work and initiatives. Whilst the Faculty are happy to provide this platform for students, please note that this does necessarily denote Faculty endorsement of student activities.
Membership
Students are invited to join the Faculty at membership Provider Level (ex-Level 1). Apply here
The Student and Junior Trainee Group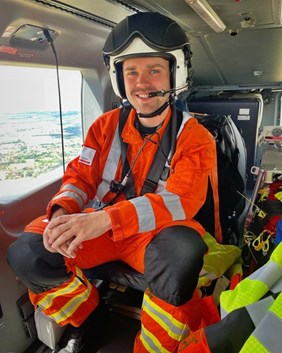 Thomas Burton
Chair
FPHCStudentsReps@rcsed.net
Dr Thomas Burton is a Junior Doctor in the West Midlands with a keen interest in PHEM. He has been the regional representative for the West-Midlands for the past 2 years and during this time has been responsible for setting up a new PHEM teaching and observer programme in the region. He is a graduate of Birmingham university and intercalated in urgent and emergency care. He undertook an elective flying with East Anglian Air Ambulance and in his spare time works as a Special Constable for West Midlands Police. He is excited to be chair of the student and junior trainee group this year
 
 
Rachel Kiernan-O'Donnell
Secretary
FPHCStudentsSecGen@rcsed.net 
Nathan Anderson
Treasurer
FPHCStudentTreasurer@rcsed.net

Rachel is a final year student doctor at the University of Liverpool, having completed her degree in Urgent and Emergency Care in a Bristol major trauma centre in 2021. She has been an active member of Wilderness Medicine and PHEM societies since joining medical school, serving terms as president and secretary. Rachel's experience with society simulations helped her to co-ordinate an ED resus sim programme last year. She has supported mountain rescue casualty care delivery,  major incident exercises and served as faculty support for the national PHEM course twice. Having completed her FPHC elective with Essex and Herts Air Ambulance Trust, she hopes to continue her work around simulation and the service's use of prehospital blood products.  Lover of (most) things type-two fun, Rachel is particularly partial to a day in the mountains and a good Tough Mudder run!

 Nathan is a foundation year two doctor in South Wales, and graduate of the Emergency, Prehospital and Immediate care iBSc at Cardiff University. Current research includes prehospital medicine and medical education. Nathan has experience working alongside paramedics and enhanced care teams in Wales.

 
Background
The Faculty of Pre-Hospital Care Student and Junior Trainee Group is a group of students and junior professionals within the fields of medicine, nursing, and paramedicine, who are committed to developing and extending opportunities in training and education for careers in pre-hospital emergency medicine (PHEM). As a committee of the Faculty of Pre-Hospital Care RCSEd, the primary focus is to extend the work of the Faculty into the realms of students and juniors to help promote opportunities and training of the highest standard, and available as widely as possible.
The committee comprises of an Executive, made up of a Chairperson, Treasurer, Secretary, and Immediate Past Chair, who work with a group of 13 Regional Representatives.
The committee's primary objectives are:
Developing and disseminating standards and guidance on pre-hospital education for students and juniors.
Supporting the creation and advancement of local, regional, and national pre-hospital education initiatives.
Connecting junior stakeholders on a regional and national level to promote and enhance their activities.
Providing a conduit for communication between students/juniors and the Faculty's senior leadership.
Regional Representatives link the Faculty of Pre-Hospital Care Student and Junior Trainee committee with individuals and groups within their respective region. The role requires maintaining and growing a list of contacts in the region, and working closely with the committee executive to communicate with them. Regional representatives are responsible for:
Maintaining contact with pre-hospital care stakeholders in their area:
Advocating on behalf of stakeholders in their region:
Co-ordinating local Faculty activities in their area.
Regional representatives will also be asked to undertake additional duties as identified by the executive, such as assisting with conference organisation or representing the committee at events.