Diploma in Retrieval and Transfer Medicine
 Dr John Glen, Deputy Convenor DRTM
The Diploma in Retrieval and Transfer Medicine (DRTM) examination focuses mainly on the retrieval of patients from one health care facility to another. Candidates will be expected to be competent in the assessment, management, triage and transfer of adult patients with a range of illnesses and injuries. A knowledge and understanding of retrieval co-ordination and a variety of land and air transport platforms will also be expected. An extensive syllabus covers all domains of this examination against which individual examination diets are blueprinted, ensuring that the whole breadth of the subject matter is represented in the diploma
The examination will focus predominantly on the retrieval of adult patients. Questions regarding the retrieval of paediatric patients will however be included. The examination will not deal with the retrieval of neonatal patients. 
 Exam Details
Exam Dates: 

 

Monday, 18 April 2022 - Tuesday, 19 April 2022

Closing Date

: 

17 December 2021

Location

: Edinburgh
Exam Webpage: Click Here
All of the Faculty Examinations are administered by RCSEd's Exams Team - regulations are available from the College website at the links below. Exam enquiries can be directed to the Exam's Team at: fphc.exams@rcsed.ac.uk
Use of Post-nominals
Please Note: only Members and Fellows who are in good standing can use Post-nominals from Faculty of Pre-Hospital Care Exams.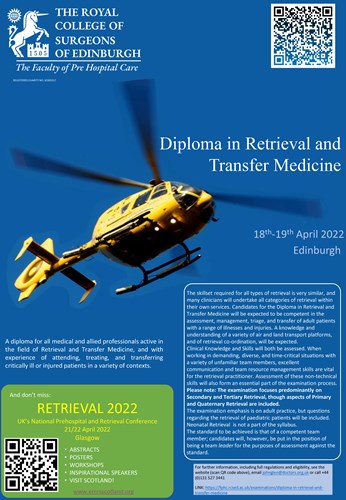 Documents