New NHSE Triage Resources
Shared with the permission of the NHS England Emergency Preparedness, Resilience and Response (EPRR)
Ten Second Triage tool (TST)
The TST is designed to be quick, simple and effective at prioritising large numbers of casualties rapidly with a focus on immediately providing lifesaving interventions (LSI). These LSI include control of severe bleeding and opening of the airway, which are known to be the key requirements to maximise patient survival in the early stages of injury. Whilst principally designed for events where casualty numbers far outweigh the availability of responders it is equally effective at any multiple patient event.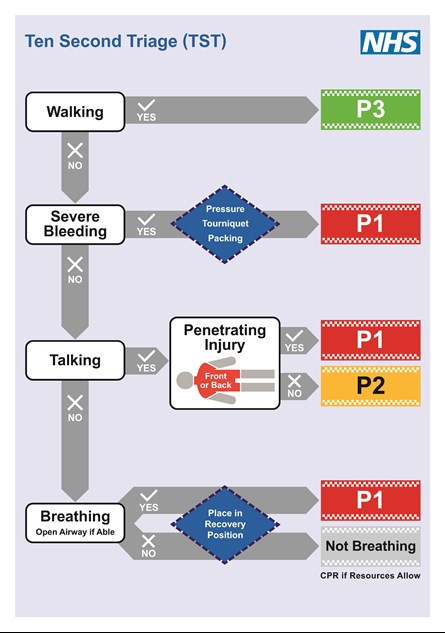 CitizenAID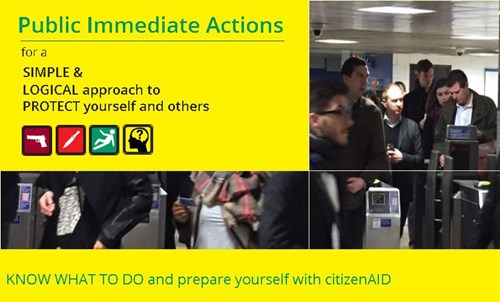 CitizenAID is part of The Queen Elizabeth Hospital Charity, Birmingham. Their website outlines their aims: 
"citizenAID™ is the initiative of four deeply experienced UK civilian and military clinicians working in collaboration with industry to improve public resilience.
When there is a shooting, stabbing or bomb explosion the initial priority will be public safety. This can delay the time before the emergency services are able to reach the injured. citizenAID™ enables the general public to be effective in these situations before the emergency services are available to provide professional medical support."
David Lockey, Faculty of Pre-Hospital Care Chairman stated, "The Faculty are very supportive of the concept and aims of CitizenAID."
Website: http://citizenaid.org
The citizenAID App can be downloaded free from either Google Play, Apple App or the Windows store. 
View our Faculty endorsed range of resources both practical and academic to aid the professional development of pre-hospital care practitioners.
Faculty Endorsed Documents
Viewing 1 - 5 of 15