2017 Elective Report
It's Not All Helicopters and Fast Cars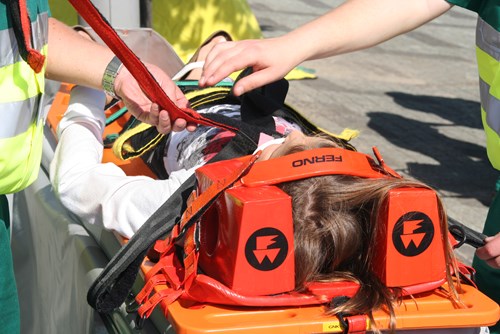 Emily Sams, The Faculty of Pre-Hospital Care's Elective winner in 2017 gives an insight to her experience. 
For my elective, I was keen to gain experience in pre-hospital care, so I applied for and was awarded the opportunity to undertake my elective with the Faculty of Pre-Hospital Care. This year the FPHC elective was facilitated by Welsh Ambulance Service Trust (WAST) and Emergency Medical Retrieval and Transfer Service (EMRTS).
My aims and objectives of my elective were to gain a greater understanding of the role of the doctor in pre-hospital care and to gain a greater understanding of the PHEM training pathways. I also wanted to develop my clinical and non-technical skills and learn how best to apply them to a pre-hospital setting. My time spent with WAST and EMRTS delivered on all these objectives and more. I My 6 week elective programme involved spending time with hospital avoidance teams, emergency response teams, and 111 and 999 call centre teams. I also had the opportunity to observe training days with Silver Commanders and MERIT nurses, which developed my understanding of how mass casualty incidents are managed, and Fire and Rescue Services which gave me an insight into pre-hospital care provided by non-healthcare professionals. I have come away with a more comprehensive understanding of what PHEM involves and the teams involved in delivering emergency care in the pre-hospital setting.
In Wales, the model by which emergency care is delivered has recently changed, and with it, pre-hospital care is evolving. There is a greater emphasis on getting the right resource to the right patient in the right timeframe, and as such, new initiatives have been set up to ensure patients receive appropriate treatment. One such initiative is the alcohol treatment centre (ATC) in Cardiff, which is a nurse-led unit that runs on a Friday and Saturday night to provide treatment for city centre revellers. I worked with one of the ambulance crews working alongside the ATC, triaging and treating patients in the city centre to ensure that patients are transferred to the appropriate destination: A&E, ATC, or discharged at scene. During the course of the shift, we were dispatched to a number of patients in the city centre with a variety of different complaints, including alcohol intoxication, abdominal pains, and a broken ankle.
Over the course of my elective I spent time with a number of units that have been set up with the aim of preventing hospital admissions. In Newport and Cardiff I was able to ride along on shifts with the Physician Response Unit and Hospital Avoidance Programme, respectively. The purpose of these units were to provide treatment that a standard ambulance isn't able to offer, in order to prevent a hospital admission. I worked in teams comprising of a PHEM doctor and an Advance Paramedic Practitioner. With these teams I saw a variety of patients, from victims of road traffic collisions to an exacerbation of fibromyalgia and everything in between. I was actively involved in the decision-making process regarding whether patients should be treated and remain at home or be conveyed to hospital. This was instrumental in developing my clinical reasoning skills in the pre-hospital environment.
Other units focussing on the prevention of hospital admission included the Joint Response Unit (JRU). This was a unit that has been developed following a need identified by a local paramedic. When police require a patient to be medically checked, there is often no immediate threat to life, and therefore these jobs tend to be of a low priority, increasing pressure on both the police and ambulance services. I spent a 12 hour shift with the team, comprising of a police officer and a paramedic, during which we attended road traffic collisions and jobs relating to mental health issues. In each case, the JRU had the ability to prevent the need for additional ambulance resources.
I had the opportunity to spend time with the Mon Enhanced Care (MEC) Service in Anglesey, a team comprising of a GP, Advanced Nurse Practitioners, and Healthcare Support Workers. I worked with the MEC team over two days, helping to provide diagnostic tests, assessments, and, where possible, treatment at home for elderly patients in order to prevent hospital admission. This service acts in the short to medium term and provides a service that bridges the gap between what a GP is able to provide and inpatient hospital care. I was able to observe the beneficial impact that this team has on the community it serves. Many elderly patients prefer to stay in their own home or care home where possible, as the nearest hospital for Anglesey residents can be over 1 hour away from friends and family. Patients cared for in their own home are also able to maintain their independence and mobility. The team are able to request input from social services and therapy services on the same or next day of the referral, enabling them to provide comprehensive care in the community.
Of course, I also got so experience the acute trauma the PHEM is associated with. I had the opportunity to join the team on the PHEM car with EMRTS and attended jobs which required the team to carry out pre-hospital rapid sequence induction, bilateral thoracostomies, cardiopulmonary resuscitation and fluid resuscitation. I was able to observe the processes involved with a pre-hospital RSI, and get hands on with the management of a traumatic cardiac arrest. I learnt how the management of a traumatic differs from a medical cardiac arrest, and the importance of examining the scene of an incident for scene safety and to identify the mechanism of injury.
A unique experience the FPHC elective offers is the opportunity to spend a week with the Faculty in Edinburgh. I was able to sit in on Faculty meetings, observe how the Faculty is run, and observe the process involved in setting up professional OSPEs and ensuring they are examined fairly for each candidate. This week also gave me to opportunity to discuss PHEM careers with some incredibly inspirational doctors from different base specialties.
In summary, I would recommend the FPHC elective to any student with an interest in pre-hospital medicine. The elective programme offered is varied and flexible and can be adapted to include areas of particular interest to the student or indeed areas that the student would like more exposure to. This elective has allowed me to gain a broader understanding of PHEM and develop my clinical reasoning in relation to pre-hospital care.