Paul Traynor, The Faculty of Pre-Hospital Care's Elective winner in 2016 gives an insight to his experience.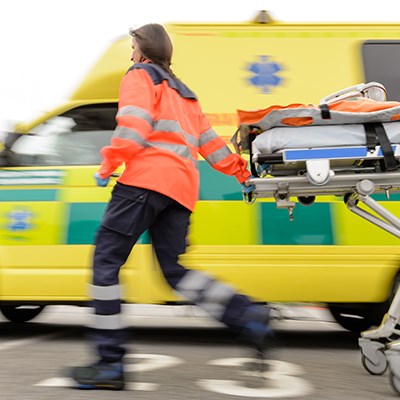 During my undergraduate training I have had many different clinical specialty attachments, and have seen many patients. The elective on Prehospital care offered me the opportunity to be on the frontline, treating patients at the point of first contact.
I spent considerable time working with many inspirational characters in the West Midlands Ambulance Service, being the first responders to medical and traumatic emergencies and have developed both personally and professionally as a result. I have comforted anxious mothers as their children were blue-lighted into the Emergency department, performed Advanced Life Support on patients in Cardiac Arrest and assisted in caring for patients involved in RTCs. Being part of such small teams has helped me refine my clinical skills in ways far beyond what I had imagined. While previous attachments in the Emergency Department allowed me to get hands on in patient care, this elective allowed me to lead on patient cases, having responsibility from beginning to handover at the hospital.
My time spent with the Urban Search and Rescue team of Hereford and Worcester Fire and Rescue Service, and with the Armed Response Officers of West Mercia/Warwickshire (Alliance) Police Firearms Unit, allowed me to train further in prehospital trauma whilst gaining an appreciation of operational challenges faced by these services. I was part of a team tasked with stabilising and extracting a casualty in 'confined spaces' where there was barely enough room to crawl let alone kneel as well as training scenarios where I had to assist in casualty treatment with an extra 20kg of body armour and firearms equipment strapped to me. Spending time with the operators and dispatchers in the Emergency Operations Control centre allowed me to experience how first contact is established and how the earliest medical intervention is carried out.
My placement with the Major Trauma Services allowed me to return to familiar surroundings in the hospital and allowed me to be a part of the final 'definitive' care pathway for the patient, having experienced the complete patient's journey from the 999 call to the recovery phase in hospital.
I also had the pleasure of a visit to the Faculty of Pre-Hospital care in Edinburgh where as well as experiencing both the breath-taking scenery of the Scottish highlands and the culture of Edinburgh City; I spent time seeing how a faculty is run, along with attending faculty meetings and assisting in the professional OSCEs, seeing the painstaking work that goes into ensuring the examinations pass off successfully and fairly for all applicants.
As I have mentioned before, this elective was a fantastic experience for me to grow professionally and personally. It has enabled me to improve my clinical skills across the spectrum and I can unreservedly recommend this elective to anyone interested in prehospital care, it won't disappoint. Furthermore, I would recommend prehospital experience to any medical professional who has an ambition of working with acutely unwell patients, to experience what happens before the patient makes it into that resus room, or majors bay or acute ward.