Welcome to the North East Regional page:
 

Gordon Ingram
Lead Regional Representative

Jonathan Halcrow
Student Representative

UK HCPC Paramedic with NHS, HEMS, Air Ambulance and private medical company experience.
Experienced operational Paramedic and instructor of high level pre-hospital educational courses.

Foundation Doctor with an interest in Critical Care, Trauma and Simulation

 

 

 

 

Nat Lonsdale

Regional Representative

Nat is a senior Registrar in Emergency Medicine and Pre-Hospital Emergency Medicine She completed her National PHEM training in July 2019 Nat works at The James Cook University Hospital and is a Doctor for two Air ambulance charities and for Newcastle Thunder Rugby League. Nat is a Medical Officer in the Royal Air Force and having recently been deployed to Antarctica has an interest in Extreme/Austere Environment Medicine

Rob Anderson

Regional Representative

Rob is a consultant in Emergency Medicine and Pre-Hospital Care, with over 15 years experience working in the Pre-Hospital environment. This includes working for 2 air ambulance charities in the North of England and frontline service in Afghanistan serving as a medical officer to the Parachute Regiment.

 

Sergeant Ray Horncastle

Regional Representative

Deputy Chief Firearms Instructor for Northumbria Police Lead Firearms medic instructor. Member of the Northumbria Police clinical governance board. Holds the FREC 4 and PHTLS qualifications.

 

Dan Haworth

Regional Representative

Dan is a Consultant Paramedic for the North East Ambulance Service NHS foundation Trust.  He has undertaken a variety of roles in his 20+ years working for NHS ambulance services including: Team Leader and  Education officer. His areas of interest are Critical Care, Leadership and Research.

  

Doogie Howes

Regional Representative

Doogie is Military Consultant in Emergency Medicine and Pre-Hospital Emergency Medicine with over 18 years' service in the Royal Navy and has been with the Great North Air Ambulance Service since 2015. He has an interest in medical education and is working extensively in cold weather environments.
As you will see from the pictures, the representatives for the North East region have changed.  We hope that as a group, we can bring a wide variety of events, opportunities and learning to those within our region who are interested in Pre-Hospital Care.
Recently all of the representatives met and discussed the aims for the future for the region and we are pleased to say we have some exciting ideas in the pipeline.
Once  the pressure of Covid-19 eases we will be looking to get dates in the diary for a series of events across our North East region which we hope will be of benefit.
Not only do we aim to have shared learning events but we also aim to give those who are keen in participating in the Diploma in Immediate Medical Care the opportunity to sharpen your knowledge and skills in preparation for this.
Keep an eye on our page for more details and hope you are all staying safe.
Gordon
 FPHC Student and Junior Trainee Teaching Programme 2021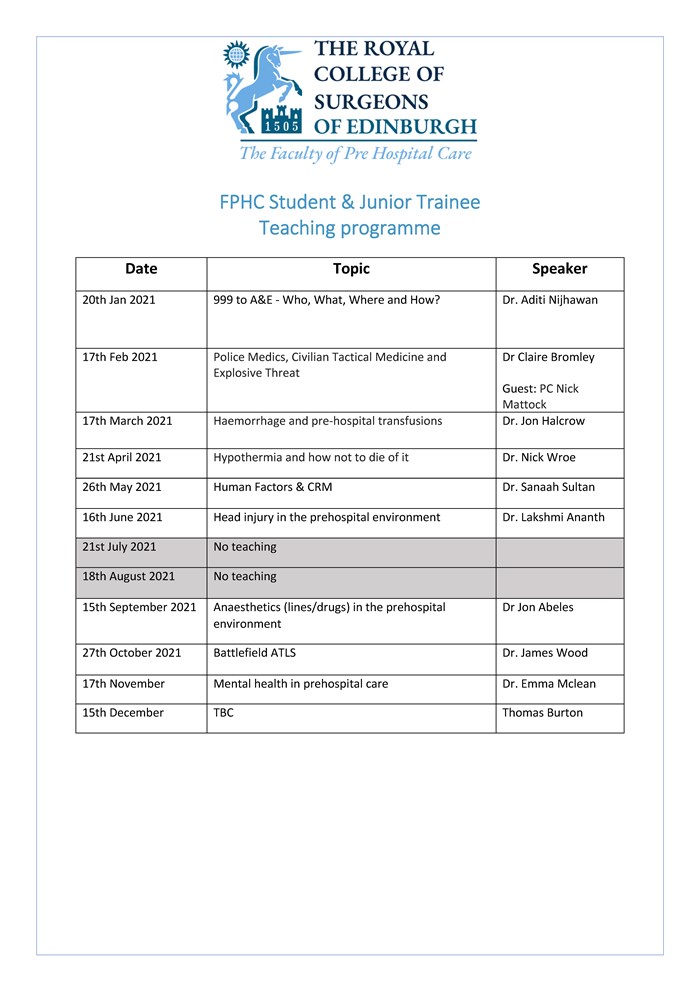 FPHC North East Region Virtual Conference
The FPHC North East Regional Team have put together their first Virtual Conference. 
Join us on the evening of the 10/03/21 at 7pm to find out about what different organisations can provide to patients in the North East.
The conference will offer an insight into the pre-Hospital activities taking place in the North East.
Message from the North East Regional Team
Hi all,
We have arranged the first online conference for our region and are looking forward to the event.
Please join us to hear from several different representatives within the North East showcasing the abilities of their organisations with regards to pre-hospital care.
The presentations will be approximately 10 mins each and after the last presentation there will be an open Q & A session for you to ask any presenter any specific questions.
Please register via the link and join us on the 10th March between 1900 – 2100.
See you then!
North East Regional Team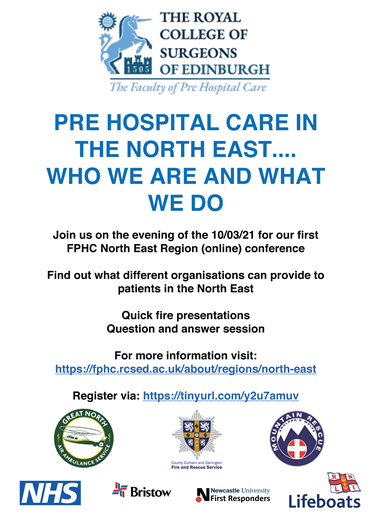 Useful Links
Ambulance service

North East Ambulance Service NHS Foundation

 

Air ambulance

Great North Air Ambulance Service (GNAAS)

 

Local trauma network

Northern England Clinical Networks

 

Local Universities initiatives websites

Newcastle University School of Medical Education

 

Other organisations

Newcastle Emergency Medicine Society