Welcome to the Yorkshire Regional page:
 
 

Andy Pountney
Regional Rep

Yvonne Pearce
Student Rep
Yorkshire is a vast and varied county with a pre-hospital care system to match. The seamless integration between the many voluntary and statuary services provides excellent care for the sick and injured across a broad spectrum of environments and terrains until they reach the safety of hospital. The wide reaching and diverse system that has developed in Yorkshire makes it an outstanding region for training and opportunities for both professionals and skilled volunteers.
Upcoming Events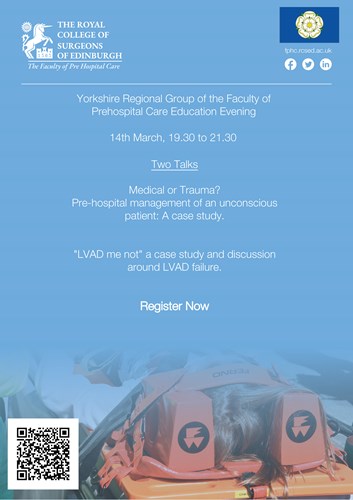 Useful Links
BASICS scheme

YAS – BASICS

 

 

Ambulance service

Yorkshire Ambulance Service HQ

 

Air ambulance

Yorkshire Air Ambulance

 

 

Local trauma network

West Yorkshire Major Trauma Network

North Yorkshire and Humberside Major Trauma

 

Local Universities initiatives websites

University of Leeds Medical School:

Leeds Emergency Medicine Society (LEMS)

Hull York Medical School:

PCP

Wilderness Medicine

University of Sheffield Medical School:

Acute Care and Trauma Society (ACTsoc)

Community First Responder Group

St John LINKS

 

 

Other organisations:

West Yorkshire Medic Response

 
Upcoming System Maintenance & Network Disruption
Due to essential systems maintenance and upgrades there will be intermittent interruptions to some on-line services on Saturday 27th of February. There will be further interruption to some core services on Wednesday 2nd and Thursday 3rd of March.
We apologise for any inconvenience caused.
×