Student Elective
18 January 2017

Back to News Home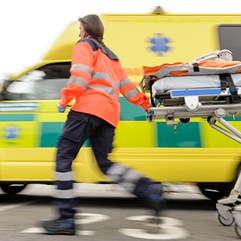 The FPHC Student Elective in PHEM for 2017, being hosted by the Welsh Ambulance Service and EMRTS Cymru, was awarded to Emily Sams, a Final Year Graduate Entry Medical Student at Nottingham, after a very competitive application process which attracted some very high caliber candidates.
Chris Shaw, the special point of contact in Wales for the Elective says - When the Faculty of Pre-Hospital Care offered us the opportunity to host the national medical student elective in Wales, we jumped at the chance to both showcase our approach to pre-hospital care and to support the Faculty in national developments.
Wales has a broad and developing range of pre-hospital care services, which we believe make an excellent platform for student experience. Our ambulance service clinical model is driven by getting the right asset to the right patient in the right timeframe; so alongside core ambulance service operations, we operate physician led pre-hospital emergency medicine teams targeted at the whole spectrum of clinical situations from admission avoidance to pre-hospital critical care. Where specialist response capabilities are needed, our partner agencies in care delivery include police firearms teams, fire and rescue USAR, HM Coastguard, Mountain Rescue and three BASICS-affiliated immediate care schemes.

Welsh Ambulance Services NHS Trust is hosting the elective supported by the Emergency Medical Retrieval and Transfer Service (EMRTS Cymru). EMRTS boasts a 100% consultant delivered pre-hospital critical care and time critical retrieval service, which has to date attracted more than 50% of Welsh Pre-Hospital Emergency Medicine trainees back to Wales on completion of their training to take up joint hospital / pre-hospital care roles. This joint role supports excellent transition of clinical care across the hospital / pre-hospital interface; ensuring the right patient receives the right care in the right facility in a safe and efficient timeframe. We are exited by this elective attachment and look forward to providing an exciting and educational experience.
Emily says - "I am delighted to have been awarded the elective with the Faculty of Pre Hospital Care. As someone with a keen interest in pursuing a career in pre-hospital medicine, this is an amazing opportunity. I hope to gain a more in depth insight into the emerging specialty of Pre Hospital Emergency Medicine and a better understanding of the roles of a variety of professionals including police firearms officers and the fire service in pre-hospital care provision. This elective offers the opportunity to apply the knowledge and skills I have developed in medical school over the last four years to a pre-hospital environment and develop non-technical skills, which I hope will make me a more well rounded doctor in the future.
I am particularly excited that the elective this year is being facilitated by the team in Cardiff. The University Hospital of Wales accepts major trauma cases from across South and Mid- Wales. This will allow me to experience the difference in how pre-hospital care is provided in a busy city such as Cardiff and more rural environments and also hopefully some insights into the realities of the Retrieval and Transfer systems between both. The possibility of working with other services such as Lowland and or Mountain Rescue services is also very exciting."