FPHC Chairman Meets the Queen as Sandpiper Trust Reach Milestone
5 August 2016

Back to News Home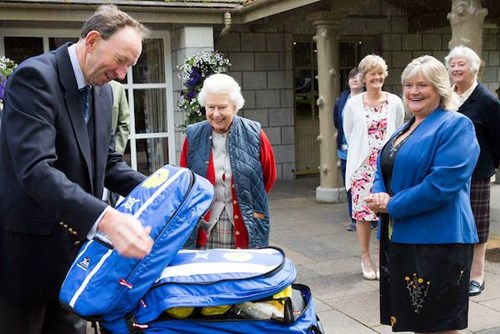 Dr Colville Laird, Chairman of the Faculty of Pre-Hospital Care, gave a demonstration of a Sandpiper Bag to HM Queen Elizabeth II yesterday (Thursday 4 August) while acting in his role as a medical adviser to The Sandpiper Trust.
The monarch, who has supported the organisation since its inception in 2001, agreed to present the 1000th bag on their behalf. The bag was designed by BASICS Scotland in order to create a standardised, portable immediate medical care kit for doctors and nurses working in remote parts of Scotland.
The Sandpiper Trust commented in a post on their Facebook page saying: 'This milestone is the culmination of 15 years of work and with 1000 bags now in the hands of local medical responders we have the best chance of beating the clock and saving lives which otherwise might have been lost. Our work would not be possible without our volunteers and fundraisers and so today we also celebrate with them.'
Upcoming System Maintenance & Network Disruption
Due to essential systems maintenance and upgrades there will be intermittent interruptions to some on-line services on Saturday 27th of February. There will be further interruption to some core services on Wednesday 2nd and Thursday 3rd of March.
We apologise for any inconvenience caused.
×