Exciting New Study From the PHOTON Group
6 October 2021

Back to News Home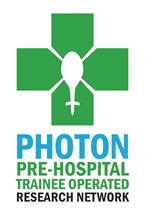 National Delphi Study to define research priorities in UK pre-hospital critical care
The purpose of this study is to establish national research priorities for pre-hospital critical care. The study will allow the researchers to identify the most important research questions which will guide future research across the United Kingdom, helping improve pre-hospital emergency care delivery.
This will be undertaken as a Delphi study, which will take place in three stages.
The first stage will see us inviting all clinicians involved in pre-hospital critical care delivery, as well as researchers and patient groups to submit a series of research questions which they feel are most important in the future development of pre-hospital critical care delivery.
Once these have been submitted, the PHOTON Delphi study subcommittee will review the submitted questions. These will be categorised and refined in order to generate a list of proposed research questions. These will then be sent back out to our Delphi mailing list to be scored in a number of domains in the second stage.
The third stage will be in the form of a nominal group meeting, which will allow further refinement of questions which have scored highly. A final list of top 10 research priorities in UK pre-hospital critical care delivery will be generated. This final stage will be undertaken by a selected group of subject matter experts (SMEs) with the aim of having a broad multidisciplinary representation from across the UK.
More details of the process can be found in the participant information sheet here
We have ethical approval from Anglia Ruskin University and are looking to launch the first Delphi round in the next couple of weeks.
This is an incredibly exciting and important study which will inform future research in pre-hospital critical care delivery. The success of the project relies on us gaining a broad national perspective as to what these research priorities are.
How to get involved…
Individuals are considered eligible for involvement in phases 1 and 2 of this Delphi if they:
Are a UK-based clinician working in a pre-hospital critical care setting with least six month's experience
OR
Hold a non-clinical role within a pre-hospital critical care team which involves an active research component
If you meet the above criteria and are willing to participate, then we ask that you kindly complete this initial very short pre-survey questionnaire to indicate your willingness to be involved and receive further communications with regards to this study. This initial survey should take no more than two minutes to complete. The link is as follows:
https://angliaruskin.onlinesurveys.ac.uk/national-delphi-study-initial-survey
If you do choose to participate, then any submissions you make as part of the study will be anonymous and we will not be able to identify your answers against the details held on the mailing list.
The short questionnaire above also details the inclusion criteria for the final stage of the Delphi. Please indicate if you meet the criteria and are willing to take part in the final meeting.
Please do not hesitate to contact Lisa Ramage at PHOTONchair@rcsed.net if you require any further clarification.
The deadline for submission for the first round is the 23rd of October 2021 so please ensure you have signed up by this date if you wish to be involved.