New FPHC Manual Has Arrived
29 April 2019

Back to News Home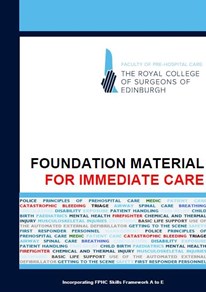 Dear Providers,
 
FPHC is pleased to announce that the Foundation Material For Immediate Care* has arrived and is available for you to purchase in hard copy or as an e-manual. 
What's new:  Many organisations provide training for responders starting off on their prehospital careers and on-going continued professional development. This manual has been designed to provide the foundation material and additional references for their training or on-going study. 
This latest edition has taken in to account many well recognised sources of high-quality clinical reference points and best practice, for example, the British Thoracic Society, Joint Royal Colleges Ambulance Liaison Committee and UK Resuscitation Council guidelines to name a few. In addition, it includes, where appropriate, extracts from consensus statements issued by The Faculty of Prehospital Care. 
In addition to a major review and enhancement of the of the whole foundation material, new sections have been included as below.
(NEW) FPHC SKILLS FRAMEWORK
(NEW) PREPARING TO WORK IN PREHOSPITAL CARE
SAFETY 1 2 3 - YOU, PATIENT, SCENE
CLUES FROM SCENE
(NEW) COMMUNICATION
PRINCIPLES OF PATIENT CARE
TRIAGE & MULTIPLE CASUALTIES
LIFE-THREATENING BLEEDING
AIRWAY CARE
SPINAL INJURY
BREATHING AND VENTILATION
CONTROL OF BLEEDING & CIRCULATION
DISABILITY
MUSCULOSKELETAL INJURY
(NEW) MINIMAL PATIENT HANDLING
PAIN RELIEF
(NEW) PREGNANCY
(NEW) EMERGENCY DELIVERY
CARE OF THE CHILD
(NEW) MENTAL HEALTH
CHEMICAL & THERMAL INJURY
POISONING
(NEW) RECOGNISING LIFE EXTINCT
TRAUMA LIFE SUPPORT NOTES
BASIC LIFE SUPPORT
AUTOMATED EXTERNAL DEFIBRILLATOR (AED)
ACUTE MEDICAL EMERGENCIES
(NEW) CAPACITY AND CONSENT
SURGICAL AIRWAY - FRONT OF NECK ACCESS
NEEDLE CRICOTHYROIDOTOMY
NEEDLE THORACOCENTESIS
INSTRUMENT THORACOSTOMY
INTRAVENOUS CANNULATION
(NEW) INTRAOSSEOUS VASCULAR ACCESS
THE BASICS OF READING AN ECG
ADULT ADVANCED LIFE
There are additional sections which have been included that are designed to enable the responder to assist and/or support others in the prehospital team with these skills. Their inclusion also aims to enhance the learners understanding of the role and capability of the specialist in prehospital emergency medicine. The FPHC also recognises that there are responders working at level A to D in prehospital care who may have the operational need to possess some of these enhanced skills (e.g those working in remote environments). For organisations providing the governance system, the Foundation Material can be used as reference for this type of remote/enhanced activity.
RECOGNISING LIFE EXTINCT
MENTAL HEALTH
CAPACITY AND CONSENT
SURGICAL AIRWAY - FRONT OF NECK ACCESS
NEEDLE CRICOTHYROIDOTOMY
NEEDLE THORACOCENTESIS
INSTRUMENT THORACOSTOMY
INTRAVENOUS CANNULATION
EMERGENCY DELIVERY
The price for the Foundation Material For Immediate Care has remained the same:
-  £29 for a hard copy 
-  £24 for an e- manual
 
If you would like to order the new manual, please email your order to fphc-endorsement@rcsed.ac.uk
Please contact the office on 0131 527 1732 if you have any questions.
* (The Foundation Material For Immediate Care used to be call the FPHC Generic Core Material)