Vice Chair Awarded Prestigious Medal at Buckingham Palace
14 June 2016

Back to News Home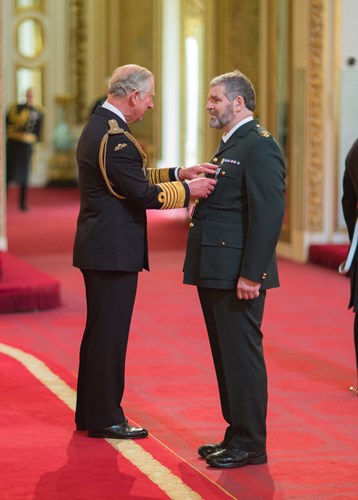 David Whitmore, Vice Chair and Treasurer of the Faculty of Pre-Hospital Care, was last week honoured by HM The Queen in recognition of over three decades of life-saving work.
At a ceremony at Buckingham Palace last Friday (10 June 2016), David was awarded the prestigious Queen's Ambulance Service Medal by Charles, Prince of Wales.
He has worked for London Ambulance service for 36 years. Reflecting on his well-deserved award, David said: "I am humbled to have been awarded this prestigious medal. I have always been keen to promote the Service and help develop the profession but I couldn't have done it without the vast help and support I have had over the years.
"This advice, help and assistance has come from many places – fellow colleagues within the ambulance service, the many doctors and other health care professionals I have worked with, the Police and Fire Service, members of HM Armed Forces and my colleagues from Search and Rescue organisations. Thank you to you all.
"I must also thank my family who have had supported and encouraged me over my years, in particular my wife, daughters and sister."
The Queen's Ambulance Service Medal (QAM) honours an elite group of ambulance crews and control room staff who have shown an exceptional devotion to duty, outstanding ability, merit and conduct in their roles within NHS Ambulance Services.
In his free time, David is a member of the Derby Mountain Rescue team who primarily offer help and assistance in the Peak District to injured people in need of help, going to other parts pf the UK if required. He has also travelled to Uganda, where he assisted in the development of a National Ambulance Service for the East African country.