Elective Opportunity in Pre-Hospital Care
12 January 2016

Back to News Home
Applications to take part in the elective are still open but students must be quick as the deadline is on 27 January. To apply: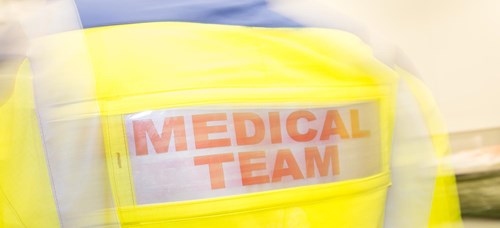 In 200 words or less explain why you would like to undertake this elective and what skills you can offer
In 200 words or less write a trauma moulage (training) scenario you would feel comfortable instructing
Any applications exceeding 200 words in either section will immediately be disregarded – the 200 words applies to the body of each section including any headings.
If you are successful in these two parts of the application process you will receive a phone call from someone associated with the Faculty of Pre-Hospital Care, who will conduct a short interview with you to assess if you are an enthusiastic individual who will be suited to this exciting elective opportunity.
This is a competitive process – the final decision will be made by a panel comprising last year's elective student, an FPHC Executive Officer, a member of the FPHC Student Committee Executive and a Senior Member of West Midlands Ambulance Service with whom a substantial part of this elective is undertaken.
The elective will last for 4 to 6 consecutive weeks in June/July 2016 which must include the week of July 18-22 which will be spent at the Faculty of Pre Hospital Care in Edinburgh.
Please send your completed application electronically to fphc@rcsed.ac.uk to be received by 4pm on Wednesday 27 January. Please attach evidence that you are currently a student at a UK medical school and are eligible to undertake the elective if you are successful.
The decision will be made and the successful applicant notified no later than Wednesday 10 February. For more information about the elective, click here.