Helicopter Medical Careers event
18 March 2019

Back to News Home
Are you interested in working in pre-hospital trauma care or helicopter critical care retrieval medicine? Helicopter Medical Careers will provide you with the information and inspiration you need to plan your future career.
The conference is open to paramedics, doctors, nurses and students.
The event takes place in Glasgow University on 23rd March 2019.
Please see https://corecognition.co.uk/hmcopening/ for more details.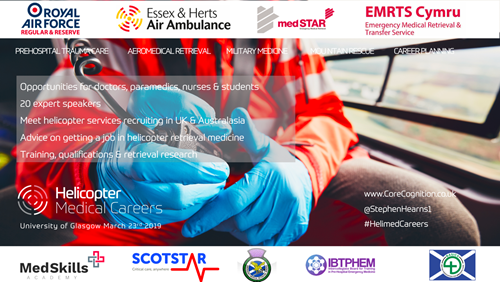 News Archive
Select a year and month from the headings below to view news items from that month.
Upcoming System Maintenance & Network Disruption
Due to essential systems maintenance and upgrades there will be intermittent interruptions to some on-line services on Saturday 27th of February. There will be further interruption to some core services on Wednesday 2nd and Thursday 3rd of March.
We apologise for any inconvenience caused.
×