Faculty Resources (D13 Audits, Guidance Docs, etc.)
View our Faculty endorsed range of resources both practical and academic to aid the professional development of pre-hospital care practitioners.
Faculty Endorsed Documents
| | | |
| --- | --- | --- |
| Geo-temporal provision of pre-hospital emergency anaesthesia by UK Helicopter Emergency Medical Services: an observational cohort study | S. Bourn, J. Turner, J. Raitt, H. Tucker, PHOTON (Pre-HOspital Trainee Operated research Network) | May 2020 |
| Pre-hospital emergency anaesthesia in the United Kingdom: an observational cohort study | J. Turner, S. Bourn, J. Raitt, E. Ley, M. O'Meara, for the Pre-HOspital Trainee Operated research Network study investigators | May 2020 |
| Ethical dimensions of COVID-19 for frontline staff | Royal College of Physicians | April 2020 |
| Updated guidance on Medical provision for Wilderness Medicine | A Mellor, L Obolensky, P Sebriakoff, N Hinson, D Hillebrandt, S Winser, D Whitmore, L Gault, C Grogan, J Hall, C Imray | February 2020 |
| National Patient Reporting Form (Poster presented at Traumacare 2019) | P Serebriakoff, F Hartley | March 2019 |
Viewing 6 - 10 of 10
Courses
CitizenAID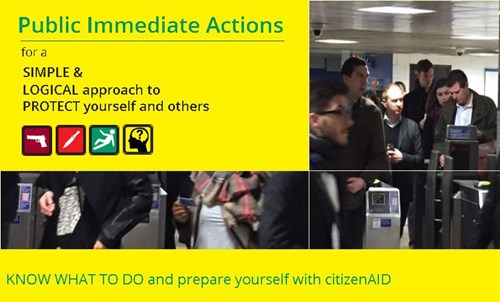 CitizenAID is part of The Queen Elizabeth Hospital Charity, Birmingham. Their website outlines their aims: 
"citizenAID™ is the initiative of four deeply experienced UK civilian and military clinicians working in collaboration with industry to improve public resilience.
When there is a shooting, stabbing or bomb explosion the initial priority will be public safety. This can delay the time before the emergency services are able to reach the injured. citizenAID™ enables the general public to be effective in these situations before the emergency services are available to provide professional medical support."
David Lockey, Faculty of Pre-Hospital Care Chairman stated, "The Faculty are very supportive of the concept and aims of CitizenAID."
Website: http://citizenaid.org
The citizenAID App can be downloaded free from either Google Play, Apple App or the Windows store. 
Endorsed Courses
As well as supporting the activities and resources above, the Faculty also have a robust Endorsement process that external pre-hospital care course providers and organisations can apply for. Full details are available here.