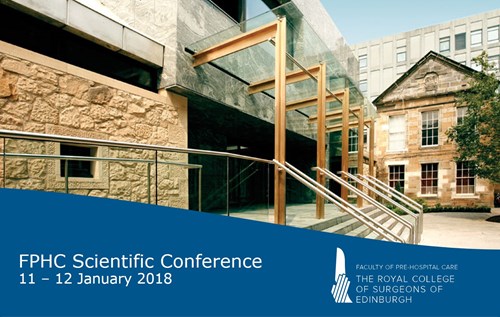 Please note this programme is accurate at 07 December 2017 and is subject to change. A PDF version of the programme can be downloaded here. 
Draft Programme for Thursday 11 January 2018

Time

Topic/ Event / Location

Speaker

0800-0850

REGISTRATION - Quincentenary Building

 

0850-0900

Welcome

 

0900-0935

Improving OOHCA Survival: the WILDCAT project 
Dr Gareth Clegg

0935-1010

Hyperoxia: when oxygen is harmful
Matt Thomas
1010-1045
The "Bleeding Problem" - Lessons from Mountain Rescue
Mike Greene
1045-1115 
Coffee
 
1115-1155 
Sudden cardiac death 
Sanjay Sharma
1155-1235 
Point-of-Care diagnosis, triage and treatment of stroke in a pre-hospital setting 
Hans Morten Liossius
1235-1335
Lunch
 
1335-1445 

FPHC & standard setting in PHEM

Consensus Statements Summaries: Burns Care & Obstetrics in Trauma Consensus review - External Haemorrhage

Andy Thurgood, Rob Moss,  
Emir Battalogu, Malcolm Russell
1445-1515 
Coffee
 
1515-1600

The top 10 pre-hospital journal articles of 2017 

Dr James Tooley
1600-1645

Extreme Environments: extrapolation to pre-hospital care 

Mark Wilson
1645-1650

Closing remarks

David Lockey
1800-2100

Drinks Reception - Playfair Hall & Museum

 

Draft Programme for Friday 12 January 2018

Time

Topic/ Event / Location

Speaker

0850-0900

REGISTRATION - Quincentenary Building

 

0900-0930

Injury prevention, control & recovery 
Rod Mackenzie

0935-1010

The hyperacute inflammatory response to trauma 
Jo Manson

1010-1045

Experimental studies of trauma & resuscitation: from oxygen transport to coagulopathy
Emrys Kirkman

1045-1115

Coffee
 

1115-1140

Do chest compressions have a role in the early treatment of haemorrhage-induced cardiac arrest
Sarah Watts

1140-1205

Impact Brain Apnoea & Motorsport
David Menzies
1205-1235
Crush Injury: the latest guidelines 
Richard Lyon MBE
1235-1335
Lunch
 
1335-1410
Calcium in pre-hospital blood transfusion: the missing link 
Stacey Webster
1410-1445
Pre-hospital traumatic brain injury
Fiona Lecky
1445-1515
Coffee
 
1515-1600
Mass casualty civilian terrorist incidents 
Dave Sloggett
1600-1645
Pre-hospital research: what do we not know? 
Tim Nutbeam
1645-1700
Closing remarks
David Lockey
Documents
Upcoming System Maintenance & Network Disruption
Due to essential systems maintenance and upgrades there will be intermittent interruptions to some on-line services on Saturday 27th of February. There will be further interruption to some core services on Wednesday 2nd and Thursday 3rd of March.
We apologise for any inconvenience caused.
×