You are here:
Conference Exhibitors
Interested in becoming an Exhibitor for the 2020 Scientific Conference?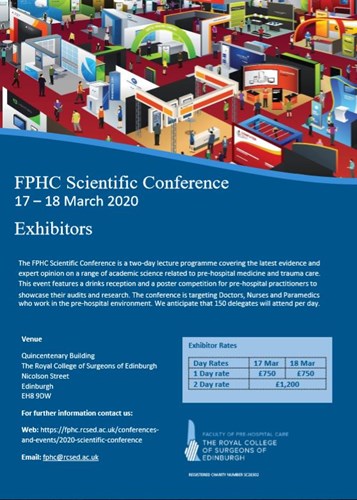 You can secure your place at the 2020 Scientific Conference, giving you access to influential speakers and the brightest minds in Pre-Hospital Care. 
We will set you up with a stand, passes to the Conference and give you a chance to network with our delegates. Our Conference is the perfect place to connect with like-minded professionals and come face-to-face with Doctors, Nurses and Paramedics all interested in Pre-Hospital Care.
To register your interest please
email us at: fphc@rcsed.ac.uk
Call us on: 0131 527 3441
Upcoming System Maintenance & Network Disruption
Due to essential systems maintenance and upgrades there will be intermittent interruptions to some on-line services on Saturday 27th of February. There will be further interruption to some core services on Wednesday 2nd and Thursday 3rd of March.
We apologise for any inconvenience caused.
×