2020 Scientific Conference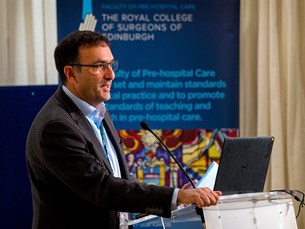 FPHC Scientific Conference
Spring Meeting
17th/18th March 2020
Overview
The FPHC Scientific Conference is a two-day lecture programme covering the latest evidence and expert opinion on a range of academic science related to pre-hospital medicine and trauma care. This event features a drinks reception and a poster competition for pre-hospital practitioners to showcase their audits and research.
Book Online
To book online click here 

Target Audience
The conference is targeting Doctors, Nurses and Paramedics who work in the pre-hospital environment.
Venue
Quincentenary Building
The Royal College of Surgeons of Edinburgh
Nicolson Street
Edinburgh
EH8 9DW
Dates
17-18 March 2020
Learning Style
Lecture format, theatre style with the opportunity for audience engagement via live questions and twitter interaction.
Aims
To provide the latest updates and increase knowledge in a range of pre-hospital topics including pre-hospital emergency medicine and trauma.
Learning Outcomes
To increase knowledge and skills in the featured pre-hospital care topics
To identify areas for improvement in personal or local pre-hospital practice or procedures.
To provide a focus for practitioners to update their practice and identify areas for further learning
CPD
Attendees will be invited to reflect on their learning from the event in their feedback process.  6 CPD points per day have been applied for from the RCSEd.
Contact Us
email: fphc@rcsed.ac.uk
phone: 0131 527 3441